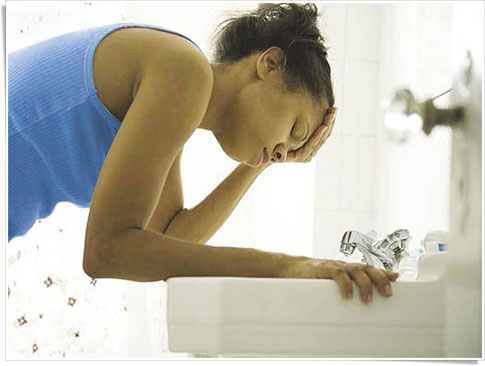 Nausea during your period can be a real pain. Nobody likes feeling sick. It can disrupt your life. It can make you feel like laying in your bed all day.
So what can you do get rid of nausea fast or even prevent it from occurring at all?
Actually, there are several home remedies that are very effective at treating nausea. Before we reveal those remedies, let's take a closer look at the causes of nausea during or before your period.
Nausea can be caused by a whole host of conditions including:
• hepatitis• inflammation of the pancreas
• stomach irritation• kidney irritation or kidney stones

• appendicitis• GERD
• gall bladder issues• blocked stomach
• stretched intestine• PMS (can cause nausea)
• migraine headaches• head injury
• stroke• glaucoma
• pain• vertigo
• motion sickness• infection of the inner ear
• brain tumor• pregnancy
• chemotherapy• low blood sugar
• food allergies• food poisoning
• alcohol • alcohol or drug withdrawals
• anesthesia
Generally, you begin to feel the signs of nausea first in your stomach, throat or chest. During this time, the body prepares to vomit and you may experience dizziness.
Unfortunately, nausea is very common during a woman's period. In fact, more than 50% of women get nausea during their period. But if you asked a doctor if it is normal to have nausea on your period, the doctor would say "no."
So what can you do to get rid of those nauseous feelings and get on with your life?  Here are seven home remedies to get you feeling better fast.
1. Ginger ale – This is great for taking away nauseous feeling. That's why you should always have some in supply at your house. Be sure to sip when drinking.
2. Chamomile tea – Available at most grocery stores and health food stores. Just put a tea bag in cup of boiling water and start feeling better quickly.
3. Lemon juice – Another great way to stop PMS nausea is to make lemonade with a fresh lemon and then sip it.
4. Lime juice – Put 10 drops of lime juice in a glass of water, add sweetener and you have a great beverage for getting rid of PMS nausea.
5. Ginger tea – Slice ginger root thinly and put it in a coffee cup. Pour boiling water on it and then drink to relieve nausea symptoms.
6. Clove tea – Put 1 teaspoon of herb (cloves) into 1 cup of boiling water for this nausea calming tea.
7. Fennel tea – You can either juice fresh fennel bulb or make a tea with 1 teaspoon fennel seeds per cup boiling water.
One more way to prevent nausea during your period is to begin regularly taking a period vitamin.
A period vitamin contains vitamins and minerals that will help prevent nausea from ever occurring in the first place. This is because nausea can often be caused by vitamin and mineral deficiencies in the body – which is common for women to incur during their period.
By keeping your vitamins and minerals at optimum levels you'll feel much better.
One last thing, if your nausea is every accompanied by severe pain, high fever, stiff neck, confusion, extreme weakness or follows a recent head injury, you should go see the doctor right away.