If you are suffering from uncomfortable period bloating – you've definitely come to the right place!
So let's get to it – here is how to get rid of painful bloating in five easy steps:
Step 1 – Take a supplement or period vitamin containing 100 mg of Vitamin B6 for your bloating.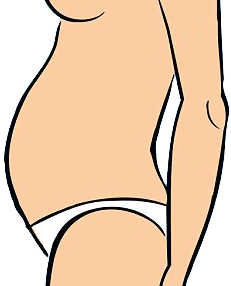 Respected nutritionist Adelle Davis, says Vitamin B6 is important for those who suffer from foul-smelling gas, abdominal pains, dizziness, bad breath, irritability, fatigue and headaches. You should also regularly take B complex vitamins, which can also help with bloating.
Step 2 – Take other essential vitamins and minerals.
Taking a comprehensive supplement like a period vitamin can prevent a lot of symptoms of PMS, including bloating. That's because a lot of times symptoms are caused by deficiencies in vitamins and minerals and the right period vitamin can help keep them at sufficient levels.
Step 3 – Do these yoga poses to relieve bloat fast
When it comes to yoga, the animal poses and other poses like the Seated Twist, Bow and Bridge, all are effective at relieving bloating and making you feel better. Push through the discomfort to start and you'll be feeling better in no time.
Specifically, you should be doing poses that target the stomach and abdominal areas. Even doing a partial shoulder stand to increase blood flow to an area of the body is potentially helpful. Remember, exercising a body area draws oxygen to that area and oxygen is a healer.
Step 4 – Teas to Drink When You Have Bloating.
A soothing tea – like ginger root tea, lemon verbena tea, ginseng tea or chamomile tea can do wonders for your bloating.
That's because these teas contain herbs that combat bloating and make you feel better. Also beware, sugary drinks can make your condition worse – so go avoid soda and fruit drinks when you feel bloated.
Step 5 – Stay active.
Walking, exercising at the gym or other physical activity can help get rid of bloating as well. Focus on activities that target the abdominal area or if you are walking or doing something else, you could occasionally contract your abdominal muscles.
The key here is to not let your bloating get the best of you. Sure you may not feel like doing anything but if you just get active, you'll quickly push past any discomfort and will start feeling much better – and these better feelings will last long after your activity is done.