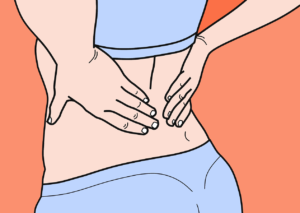 If you're thinking that back pain during your period is just something that you are going to have to learn to live with – it's time to think again.
In this article we have listed five natural ways to get rid of back pain that don't carry the potential bleeding risks associated with aspirin.
In fact, many of these natural remedies have withstood the test of time and are currently being by thousands if not millions of women every month to relieve PMS back pain. All you have to do is try them out and which ones work best for you.
5 Natural Ways to Eliminate PMS Back Pain
1 – Take Probiotics
During your period it's easy for your hormones to get out of whack. Probiotics are great at normalizing your hormone metabolism.
Look for a probiotic with multiple strains, up to 15 different ones if possible, and one that is very active when it arrives. One example of this type of probiotic is PRO-15.
Keep this in mind – right now there are only a few probiotics that actually make it past stomach acid and then do what they say they will do – one of these is PRO-15. In this case, look for probiotics that come in special time-release capsules so that your intestines will receive the probiotics over several hours instead of having them just dumped into your stomach.
2 – Take Flax seeds
Flax seeds contain lignans, which balance hormones and prevent excess estrogen from ruling your cycle. When your hormones are balanced, you will feel good both mentally and physically. When your hormones are out balance you will feel the opposite.
3 – Take Dandelion root tea
In case you weren't aware, dandelion root is an excellent liver detoxifier. When you detoxify your liver, you will remove extra hormones that may be causing PMS back pain.
4 – Take time for yourself
Something that doesn't get the value it deserves in ensuring you feel well is taking time for yourself. Doing something relaxing is a great way to reduce stress and rejuvenate yourself. Reducing stress also reduces cortisol levels that can cause tension in the muscles.
5 – Take a Period Vitamin
This is actually one of the best long-term solutions for getting rid of back pain.
A period vitamin will provide the vitamins and minerals that you need to produce hormones and stay in balance, to detoxify your liver and to keep your body in state of wellness.
For example, a Period Vitamin will contain Vitamins A, C, E, D, calcium, magnesium and B vitamins – which are all essential for functioning optimally.
One more thing, in addition to taking a Period Vitamin you should also strive to eat healthier. You should cut down on your consumption of sugar and sugar substitutes; decrease your caffeine consumption; stop eating high GI (Glycemic Index) foods; eliminate foods that are low in fiber and low in nutrients; stop eating foods you are allergic to; and, finally, stop eating meat from animals that received steroids.
Do a few or all of the things listed above and you will be amazed at how much better you feel during your period!