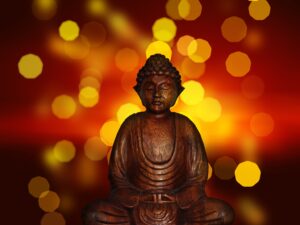 Here's something you may not have been aware of – there are several yoga poses that are actually highly effective at reducing menstrual back pain.
The reason? Yoga poses allow your body to relax its muscles, which is something many people simply can't do on their own.
The truth is women in India and numerous other countries have been using Yoga to reduce PMS back pain for years and years and years.
It doesn't matter if you have pain in lower back, mid back or upper back, Yoga can help.
Here are the 5 best Yoga poses you can use to relieve menstrual back pain:
In this pose you get down on your hands and knees, put your head down and arch your back. The feelings of relief should start pretty quickly. Then release the arch in your spine and repeat several times.
Try to feel the stretch in your neck as you perform the pose, this could help prevent a PMS headache as well.
Yoga Pose 2 – Forward Bend from Seated Position
In this pose you want to sit on the floor or on a mat with your legs stretched out. Reach forward and grab hold of the sides of your feet. This move will help stretch out your lower back, which is often the most painful area for women during their period. Hold the pose for 10 seconds and release.
Yoga Pose 3 – The Child's Pose
For this move, you will want to kneel on the floor or on a yoga mat and bend forward, collapsing your upper torso so it's lying on top of your knees and quadriceps. Tuck your head in and leave your arms over your head on the mat. Hold this position for 10 seconds. Then release and repeat a few times. This pose is particularly good if you are experiencing dull pain in your back.
Yoga Post 4 – Legs Against the Wall
This pose is probably the easiest of the five poses to do. You will want to lie on the floor as close to the wall as possible, making a 90 degree angle to the wall with your upper body. Your legs will go up the wall so that you are looking up at your toes. Relax your arms at your side. Then point your toes, release them and repeat. Pointing your toes will stretch your back muscles.
Yoga Pose 5 – Knee to Chest
For this pose, move away from the wall but stay lying on the floor. Simply grab your knees with your hands and pull them toward your chest. Hold for 10 seconds. Repeat. This pose provides relief for all three types of back pain, including middle back pain.
Yoga poses like these five can be a fun way to reduce back pain. To relieve your back pain even more consider taking  Period Vitamin.
The extra calcium and magnesium in  Period Vitamin are exactly what your body needs to relax muscles that are tense and contracting.
Period vitamin also contains B vitamins that can relax your mind. So you get the best of both worlds – a relaxed body and a relaxed mind.